On the hook – draught excluder & cowl/tank top
Inspired by Steel Kitten's "What's in the knitting bag?" post, I thought I'd talk about what's on my crochet hook. (I'm supposed to be having a week away from the computer this week doing crafty things — I've not been very successful at the "being away from a computer" thing so at least I should write about my crafty pursuits, right? ;) )
As I mentioned on here and Twitter last week, I've not been hooking for ages but now I've started again, I'm in it with a passion. Last week I started a made-up-as-I-go snake draught excluder – the tail on my first version was too short but made a natty hat for cheeky Lily-dog —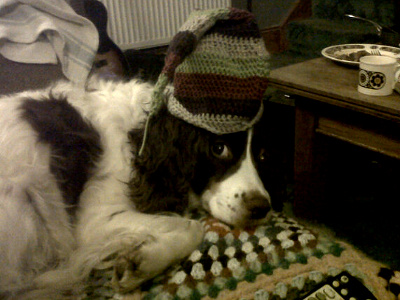 — so I frogged that and started again but naughty, naughty, I got distracted by wanting personal insulation instead.
A trip to the yarn shop later (Texere Yarns in Bradford), I'm now working on a version of the Ginny Cowl (Ravelry pattern link). I love the shape of the finished top and the pattern is deliciously simple – but I've had to change things a bit because I don't know whether it was my too-round-headed hook's fault, the fluffy yarn's fault or my too-tight tension's fault but doing the slip stitches in back loops was arrrrrggghh! Hate. I'm not 100% convinced my version will look as good as the proper Ginny Cowl and I wish I could have stuck with the original pattern, but my version stands a lot more chance of actually being completed (since it's fun not frustrating to make) rather than thrown on the ground in a huff. Details to follow if it does work!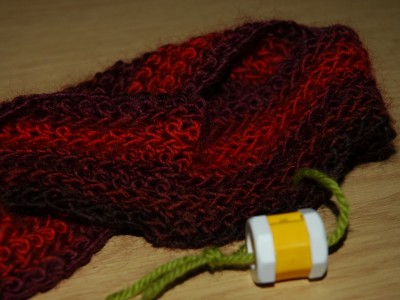 Are you crocheting/knitting anything at the moment?