Declutter November mini-challenge – your greenhouse, garden or shed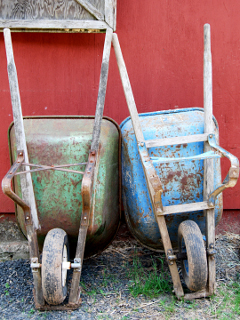 Here's the first mini-challenge of the Decluttering in November challenge: in addition to your usual one thing every day, find five things to get rid of from your greenhouse, garden or shed.
I was going to leave this one until later in the month but, if last year is anything to go by, our worlds might be under a blanket of white by then so I'll decided it would be better to declutter while the sun shines :)
So anyway, for this one, you need to get rid of five things from whatever garden/growing space you have.
This is going to be easier for some people than others. If you've only got a few houseplants or herbs on the kitchen window sill, you might struggle but do you have any unwanted old plastic plant pots lying around? decorative planters/pots or even vases you no longer use? multiple half bottles of BabyBio that could be condensed into one? Or even the plants themselves – anything you don't want any more? People often give large plants away on our local Freecycle/Freegle group.
For grow-your-own people with more space: it's the pretty much end of the growing year so think about what you've not used in the last 12 months – any pots, container or tools you could get rid of? Anything broken beyond repair? Because we growers love to reuse things, many of our gardens/allotments resemble junk heaps of possibilities: I'm not advocating getting rid of those planks that might become raised beds next year or the barrel than might become a waterbutt but to look at everything again: be realistic and honest with yourself, and think if someone else might get better use out of it than you. This sort of thing isn't going to sell at charity shops but, again, all this sort of thing regularly turns up on our Freecycle/Freegle list and there are an increasing number of gardening community groups that might be grateful for resources.
On a smaller scale, what about your seed stash – anything you're not going to grow again that could be passed on? Half bottles of feeds/fertilisers that are taking up shelf space? And what about spare/old growing books?
Have a look around and see what can go :)