New (partial) roof for the chicken run
Since we'd offed one of their species on Saturday, I decided to do a nice thing for our chickens on Sunday – I roofed part of their run.
I'd been meaning to do it for a while and had earmarked the polycarbonate sheets that had been the roof of our porch for the project – but when we had the porch replaced in the late summer, I wasn't fast enough and the sheets were whisked away before I could grab them. Boo. I've kept my eyes open for the last few months for another possible roof but as nothing else turned up and it has been getting very muddy down there, I decided to buy some plastic sheeting instead.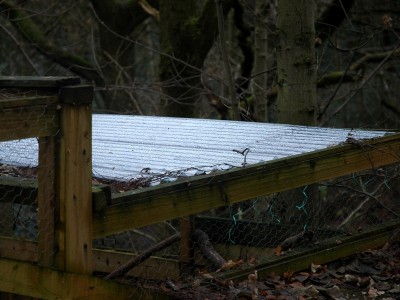 The whole run has always been covered in chicken-wire to keep the foxes out, which made fitting the plastic sheeting rather difficult, especially in the spot I had in mind. The run is on "reclaimed" land – levelling up a steep hill – and on either side, it's still the original hill. I'm not going to say how I got them into place because I think it would make John & my mum cry (especially as Sunday was icy and so possibly not the best day for clambering around). I'm surprised this blog post isn't about how I added to my bruise collection*: the really bruised life.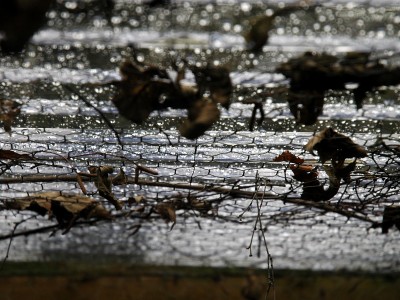 Anyway, my original plan had been to carefully drill holes through the plastic so it wouldn't crack, then screw them into place. I had an elaborate idea in mind of raising one end to make sure the rain drained away from the run rather than into it but when push came to shove and I was hanging off a tree, I realised that was unrealistic. On John's suggestion, I ended up tying them onto the chicken wire – and around support beams where appropriate – and that seems to have worked pretty well. If it snows a lot, I'll have to get into the habit of clearing it off the roofed bit so it doesn't get too heavy – but snow gathered on the chicken wire too so it was something I had to do last year anyway. I'm not sure how much it'll hold up in high winds and whether or not the rain will drain in the right way by luck rather than by design but we'll see – it's a start. And if it is a giant failure, given the way I've tied them on, it'll be reasonably easy to remove them if needs be and try again.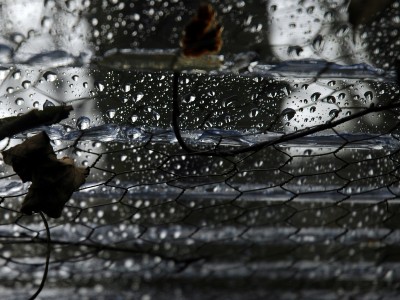 Between the new roof, the shelters I made last year and the raised coop, they have about 6m2 of covered space in their run now (not including inside the coop) and there is another nearly 4m2 space covered in pallets/trellis so they should have plenty of non-muddy wandering space this winter – which should hopefully keep any mud-related foot problems at bay. I just wish I'd got around to doing it before the mega rain earlier in the month!
* I bruised my knee on a stage combat course last week, then slipped on the ice on Friday, banging my bruised knee again and falling heavily on the top of my foot. I'm rather clumsy – which is another reason why I shouldn't have been clambering around on an icy day ;)