A bargain retro craft-supply cabinet
It's been a bit of an odd week – Monday started with a smear test (never a terribly pleasant thing), yesterday started with three dead chickens and today has started with me lugging half a tonne of woodchips down three full flights of stairs, ready to into the nearly renovated chicken run.
But it's had its good points too – some 11 year olds declared they liked me yesterday, my sore throat is finally waning after a month and my lost purse has been found (I thankfully dropped it at the theatre, rather than on the street or anywhere else). And I also got a fab new cabinet for all my craft supplies! (Well, some of them!)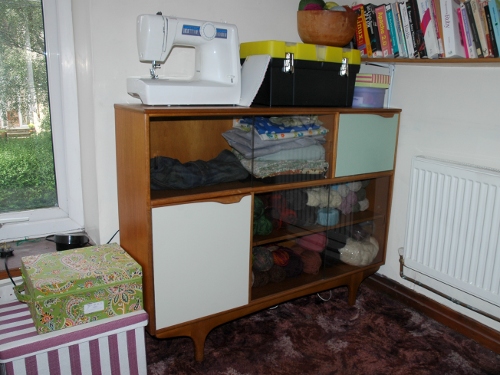 There is a strange space on our upstairs landing: not Bermuda Triangle strange but a strange space all the same. It was originally the house's tiny bathroom, until the loft was converted and someone decided to replace the bath with a set of stairs (the bathroom is now in what was once a bedroom). What we've been left with is a space about 6ft square, a bulge in a corridor really.
The last people to own the house had a desk in it and used it as a small office. They grandly called it a study and we sometimes still jokingly call it "the study" (with inverted commas), and imagined putting a nice chair in there, for quiet reading in the afternoon/evening sunshine, away from the bustle of the rest of the house. It has though been used as a dumping ground – all the bathroom stuff ended up in there last year, things en route to the attic room (our spare room where I keep a lot of my craft stuff) often have a rest break there for a month or two, and things heading to charity shops usually pause a while in there too. It was a bit depressing really – make the house feel untidier than it is, and it's already pretty untidy.
Anyway, I've been keeping an eye out on eBay for a bargainacious new-to-us sideboard for the dining room and last week it occurred to me that a little sideboard-esque cabinet might be the answer for the "study" too. This newly renovated retro one popped up last week and luckily for me, no one else was interested in it so I got it for a good price – bought & delivered for considerably less than my meagre budget for it.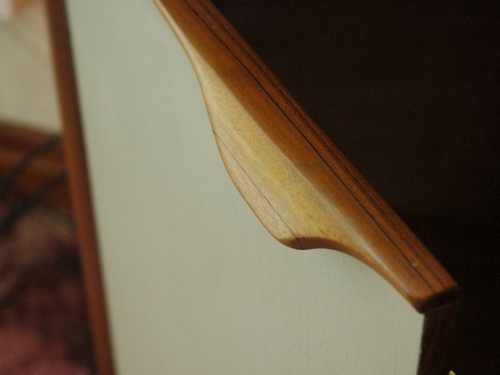 The two wooden doors have been painted — a lot better job than I could manage — and the glass fronted shelves have new light fittings in them – I obviously won't use them while I've got crafty stuff in there but maybe we'll use it for something light-able in the future. The little top cupboard is divided for filing so I've used it for filing cross-stitch/tapestry canvases by type/thread count. Between those dividers and the glass doors, it's nice and easy to see what I've got "in stock".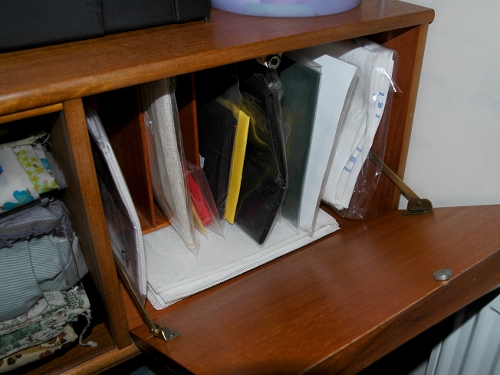 Everything in there now had previously been piled up/in bags on the floor in there so while it may seem cluttery to some people, it's a very big step forward for me! It's made that room so much more usable and pleasant – it's no longer a blight on that floor.
My next job – when I've finished all the other jobs elsewhere in the house… – is to replace the three narrow shelves above the cabinet with stronger/wider ones that run the whole length of the wall instead of strangely stopping a foot short, then the boxes on the floor can go on the shelves, and I can get/make a nice low window seat — a perfect little crafting space. I think my first craft project in there might be to make a rug to cover up the carpet ;)
Have you had an eBay (or other) bargains recently? Do you have a dedicated space for your craft supplies?