Quick tomato soup with chorizo and beans (recipe)
A common tip for people trying to eat less meat for frugal, health or environmental reasons is to use meat as a flavour not as an ingredient to add volume/bulk to the meal. I love chorizo for this purpose – the smallest pieces provide plenty of flavour. This soup doesn't taste like a slice of neat chorizo, but the sausage adds a lot of depth to what is otherwise a pretty basic tomato soup.
Like our spicy tomato and lentil soup, this is a quicky and aside from the chorizo, is made from standard store-cupboard ingredients – so is a great last minute lunch soup. It's not quite as frugal as the lentil one (because of the chorizo) but it's still pretty cheap for something so easy and tasty :)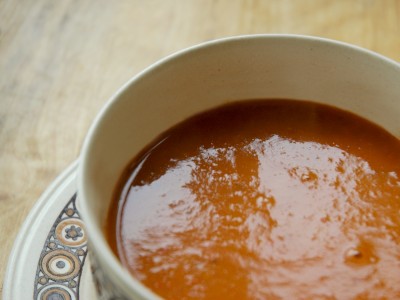 Quick tomato, chorizo and bean soup recipe
Makes 4-5 good lunch sized portions
Costs about £2 in total, or 50p a portion (would be cheaper using dried beans, they just need rehydrating first)
Ingredients
Splash of olive oil
An onion, finely chopped
A clove of garlic, minced
Chorizo – about 50g finely chopped or 10 pre-sliced slices chopped/torn up
A can of chopped tomatoes
About 300g (drained weight) pinto or borlotti beans
A litre of hot vegetable stock
3 tbsp of tomato puree
1 tsp mixed herbs
1/2 tsp paprika
1/2 tsp chilli flakes (optional!)

Method
1. In a large saucepan/stock pan, warm the olive oil over a medium heat then add the chopped onion and garlic. Cook with the lid on until the onion is soft but not browning.
2. Stir in the finely sliced chorizo and fry for about a minute. Like with the onions, the idea is to soften it (and start the fat melting) but not brown it.
3. Add the vegetable stock then the rest of the ingredients and stir through. Cover and leave to simmer over a medium heat for about 15-20 minutes.
4. When ready, use a stick blender/jug blender to … blend the soup until smooth-ish.
5. Serve with bread and cheese.