Spicy sausage and lentil casserole recipe
Could a sausage and lentil casserole be anything other than spicy with us? We heart the spice!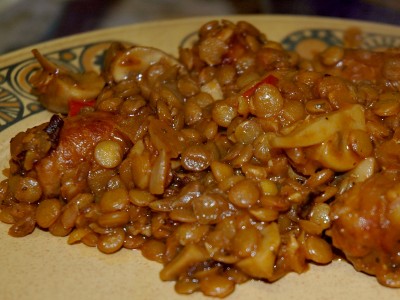 I first made this when we were on holiday in a wonderful cottage in Staithes a few years ago so it always has connotations of relaxed cosiness – we've been there a couple of times out of season and had the quietest, most relaxing holidays ever. Recommend ++.
Anyway, back to the casserole, it's a fab winter warmer – and can be pretty darn cheap if made with sausages on offer, as ours were when I made this on Saturday.



Spicy sausage and lentil casserole recipe
Makes 4 dinner portions
Cost £3-4 in total depending on sausage offers – ie, 75p-£1 a portion.
Ingredients
1lb of sausages – pork or veggie
1 large onion, diced
3 cloves of garlic, crushed (or 2tsp of puree)
100g ish of mushrooms, diced
1 or 2 peppers, diced
1 hot chilli, diced very finely (I used a scotch bonnet one when I took the pics)
250g of green lentils or puy lentils
500ml of hot veg stock
1tbsp of tomato puree
1tbsp of mixed herbs
A couple of bay leaves
2 splashes of Worchestershire sauce
Black pepper to season
A little olive oil

Method
1. In a large saucepan/casserole, fry the sausages in a little olive oil. It's up to you whether you leave them whole or cut them into chunks – we prefer chunks (these are in thirds). The aim is to brown them rather than cook them all the way through so they don't look so anaemic in the casserole.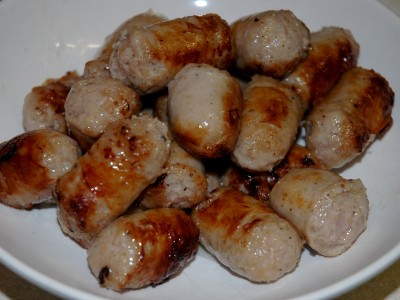 2. Once they're pleasantly browned, scoop them out into a dish and throw some – half a mugful – of water into the pan. Bring the water to the boil – it'll remove the "sausage brown" from the pan and any chunks that got stuck. Pour the bits & water back into another bowl and retain.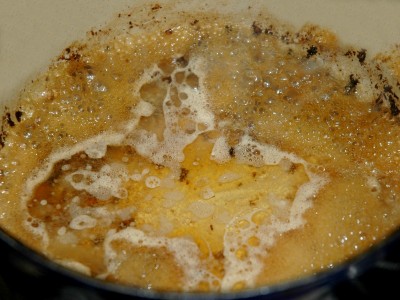 3. Now the pan is empty again, heat a little olive oil then added the diced onion and garlic. Fry for two minutes.
4. Add the sausages, chunks of mushrooms, diced pepper and finely diced chilli. (You can, of course, leave out the chilli if you'd like a not-actually-spicy spicy sausage and lentil casserole ;) ). Stir through and fry for a minute.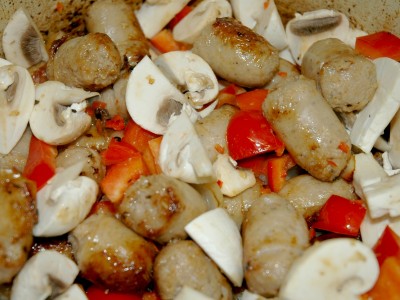 5. Rinse the lentils thoroughly and add to the pan, along with the stock, bay leaves, herbs, black pepper, Worchestershire sauce and tomato puree. Stir through until everything is well distributed.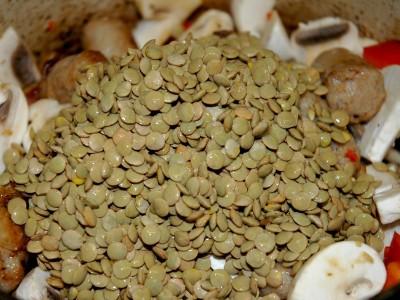 6. Bring to boil then cover & leave to simmer until the lentils are soft – about 45 mins. Stir occasionally and add more water/leave the lid off depends on the moisture levels.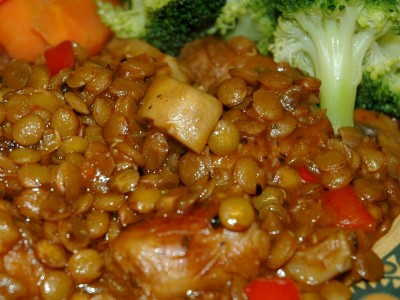 When the lentils are soft, serve with veg and/or crusty bread. I don't find lentils freeze/defrost that well but it lasts a couple of days in the fridge.