Fig and fennel seed soda bread recipe
A few weeks ago, I wanted a sweet treat but didn't have enough butter in the house to make something cake-ish. After a bit of Googling around for inspiration, I came up with this sweet bread instead – and because it doesn't use yeast and doesn't need kneading, it's ready to eat in next to no time.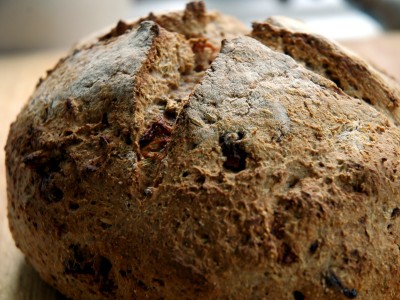 It's a little different to my usual soda bread – I've made it a few times now to tweak the flavourings but my expert focus groups contradicted each other with their opinions on less or more fennel seeds (same loaf, wildly different opinions), so I've made it how I like it, sod them ;) If you like the liquorice taste of fennel seeds, you might want to up it to 5tsp of seeds; if you prefer it to be subtler (but still there in the background), drop it down to 3tsp. And don't feed it to any of my contrary friends ;)
It can be baked on a flat cookie sheet (dusted with flour or semolina) or in a lidded cast iron casserole dish (like the slow rise bread). The latter traps moisture and reduces the cooking time – but make sure it's super hot before adding the dough or it'll stick.
Fig and fennel seed soda bread recipe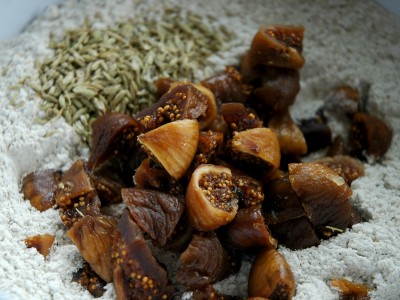 Ingredients:
To make soured/acidified milk
300ml of milk
1tbsp of lemon juice
For the bread
450g/1lb of flour: about 200g plain white flour and 250g of rye flour
1tsp of caster sugar
1/2 tsp of salt
2tsp of bicarbonate of soda
2tsp of cream of tartar
4tsp of fennel seeds
175g (ish) of dried figs
A little extra flour/semolina for dusting

Method:
1. In a measuring jug, add the lemon juice to the milk and stir. Leave it on one side for 15 minutes, while you prepare everything else. At the same time, preheat the oven to 220C/450F/gas mark 8. If you're going to bake the bread in a cast iron pan, put that in the oven to pre-heat too – it'll take at least 15 mins but maybe more, depending on your oven.
2. While the oven is warming and the milk souring, remove the hard stalky bit from the figs (I hate that bit) then finely chop them (my pieces varied from being about 5mm cubed, to being about 1cm cubed – variety is good :) ). Following that, lightly crush the fennel seeds in a pestle and mortar or with the side of a knife.
3. As with all soda bread, it's important to get it into the oven as soon as possible after mixing the wet and dry ingredients so wait until the milk is properly soured and the oven & cast iron dish are hot before proceeding. Also make sure your shaping surface is ready dusted and if you're using a cookie sheet/tray, that it's dusted with flour or semolina too, to stop the dough from sticking.
4. When everything is good to go, place all the dry ingredients along with the figs and fennel seeds in a bowl and mix well. Add about three-quarters of the milk and quickly mix, adding the rest of the milk slowly, as necessary, to form a cohesive dough (depending on the day, I've needed between 275ml and 300ml of milk to make the dough). If the dough ends up slightly too sticky, it's not the end of the world: it'll just be a little more difficult to shape and spread out a little more while cooking.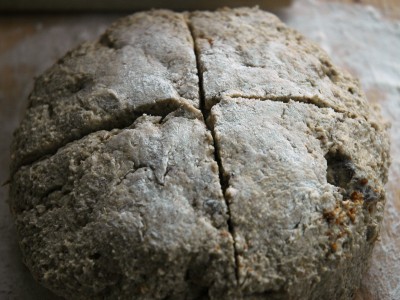 5. Once the dough is holding together in a nice ball (it's not as slick as kneaded bread dough), quickly shape it into a round on the previously dusted surface then flip it over (making sure the new bottom still gets a bit of flour dusting) and use a sharp knife to slice a cross into the top. As the bread expands in the oven, it'll hopefully "bloom" out of the cross rather than pushing growing in a random, ugly fashion. Also, it looks great when cooked :)
6. Pop the dough onto the dusted cookie sheet or into the preheated cast iron dish. Baking it on the sheet/tray will take about 40-45 minutes; the casserole dish only needs about 30mins. It should turn a rich mid-brown colour and like all breads, is ready when a tap on the bottom of the loaf sounds hollow.
7. Leave the loaf to cool on a baking tray before cramming it all into your mouth.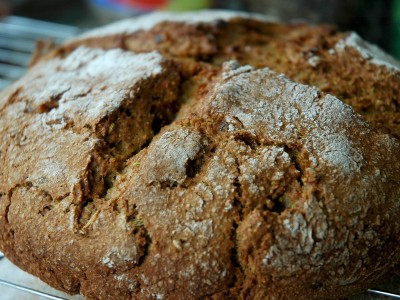 Eat it sliced on its own, with a thin slick of butter or with cheese.
Treated well, it should be good to eat fresh for at least a few days. I have a theory that after that, it'll be awesome toasted but a loaf hasn't survived long enough to check that, nom-nom-nom! :)
If you try this recipe, do let me know what you think!