Wild plum/cherry plum ketchup
As I mentioned yesterday when discussing my SUPER AWESOME YUMMY jam (it's gooooooood), I used the rest of our last plum-type fruit harvest to make some ketchup.
Last year, I made jam and spicy chutney but this year I was inspired by a tweet from Jono from Real Men Sow's tweet linking to a cherry plum ketchup recipe a few weeks ago.
Since it was a bit of a test, I quartered the quantities of Norfolk Kitchen's original recipe (although accidentally only halved the amount of onion) and added about 10ml of Worchestershire Sauce as well the vinegar because I thought it would add some nice undertones. I also added a little water, maybe 100ml in total, while it was simmering as I thought it would be getting a little sticky for ketchup.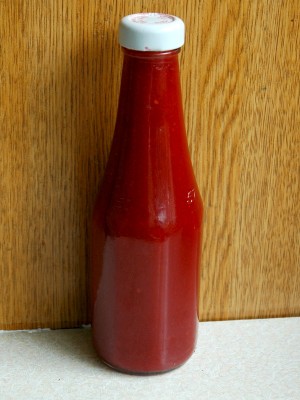 My quartered amount – based on 500g of plums – made more than I thought it would – 3 bottles full of sauce (this old Heinz bottle and two Encona ones). I imagine a week or two of "aging" will help the flavours develop but it's already pretty tasty – fruity but savoury. It's a lovely colour too – a proper full-bodied deep red – first taste with the eyes and all that ;)
Like Tracey, I'll probably use it with things I wouldn't normally Heinz up, like cheese on toast. I'm also interested to know how it will work with the Swillington Farm pork and plum sausages we have in the freezer – double plum action! :)