What's in your store cupboard/pantry?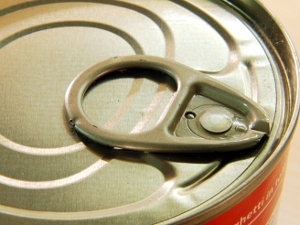 (I realise I am a contrary soul – pushing the GET RID OF STUFF NOW!! agenda on one hand and then in this post, advocating stocking up but I think food and household goods are a little different…)
One of my "to-do before winter" jobs is to make sure our store cupboard is stocked up on essentials for us and the animals in case the weather is bad and we're too lazy to go to the shops in the snow/ice. The obvious next question for me is "what do we consider store-cupboard essentials?".
I'll start with the animals as they're easier: Lily-dog is pretty easy to deal with as she gets 2x15kg bags of biscuits delivered every three months or so. I think she's got just over a bag left so I'll order another twin pack in the next couple of weeks and she'll be fine. The cats need dry food/biscuits (from the supermarket) and canned food (which we currently order online as we're trying a slightly specialist type to stop the STINKIEST POOP EVER) – we'll buy at least double the normal quantity (or more if the dry is on offer) next time we do an order/shop. The cats also need some cat litter (since they're old & lazy) so we'll make sure we've got some extra bags in store too. The chickens need layers pellets – a 20kg lasts us nearly a month and we've got just over a bag at the moment — we should get another couple this month. (All the animals get treats as well, but they're not essentials. Possibly the only thing in the "treat" category that it would be worth stocking up on is chew bones for Lily as they're good to clean her teeth and she chews sticks otherwise.)
For us, for the kitchen stuff, there is a difference between absolute so-we-don't-die essentials and things we to give us a reasonably normal, decent, varied diet. I think the latter is more relevant to us as chances are any problems (or laziness) will only last a few days/a week at moment – and if we don't need them, we're more likely to use them in the regular run of things. So I'll consider our food store-cupboard essentials to be: rice (basmati & risotto), various canned/dried pulses (min: chickpeas, kidney beans, pinto beans, red lentils, brown lentils), pasta (spaghetti & some sort of smaller shape), canned tomatoes, tomato puree, tuna, sweetcorn, olives (for eating & for cooking), jars of pickled veg (such as beetroot & chillis), flour (a couple of different sorts for bread & baking), dried yeast, onions, pureed ginger & garlic (we buy big tubs of it), dried herbs & spices (min: chilli, cumin seeds, ground coriander seeds, oregano, basil, mustard seeds, bay leaves), stock cubes/bouillon powder, cooking oil, worchestershire sauce, cereal/porridge (although both would generally need access to milk – possibly get some UHT/rice milk just in case), CHOCOLATE, tea, coffee and sugar, and in the fridge, some sort of cured/smoked sausage (such as chorizo or kabanos) and some parmesan-ish cheese. Assuming short term snow days/being lazy, we'll obviously have our existing homemade chutney/jam collection, eggs, meat, vegetables and other assorted goodies in the cupboards/freezer to keep us going but I'm going to make sure we have decent supplies of at least the stuff listed above.
Other stuff: bottled drinking water in case we have pipes burst like last year which result in longer water outage, toilet paper, (homemade) soap, painkillers and other basic medication (particularly cold-related stuff), and matches (for lighting the wood burning stoves).
I'm hoping that we've already got most of this stuff in store as part of our usual supplies (which are at their peak right now anyway as we did a once-every-six-weeks supermarket run on Monday) but if not, I've at least now got a checklist/shopping list to work through.
What's on your store cupboard/supplies list? Is there anything major that I've missed?