Declutter November – end of week 1
So last week we kicked off our Declutter November challenge – 22 of us have pledged to get rid of one thing every day in November (and possibly other things in the weekly mini-challenges too), with the hope of making our homes a little bit tidier and, more importantly, changing how we look at all that junk.
Team Declutter: how has your first week been?
This is my first six days pile: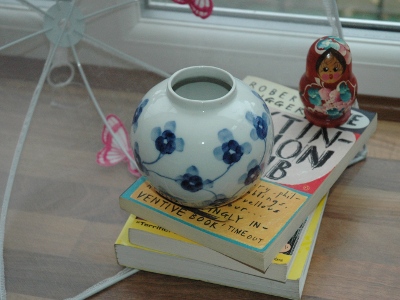 I thought this week would be really easy for me and John – the obvious stand-out "get rid of me!!" stuff – but I've been distracted with my hardcore start to NaNoWriMo (32,104 words in 6 days!) so I've copped out a bit (since they're not really a clutter problem for us) and included three books. But the top one was a pure clutter book: I've only read half of it and didn't like it, but John bought it for me as a birthday present just before we got together so it always had a special meaning/been a memory. Then this week I realised that we've been together for nearly ten years now so plenty of much better memories together: sod the book I didn't like!
The other things are:
a food cover/umbrella thing – it's nice but doesn't collapse so always been a bit in the way.
a never-used-for-anything ginger jar.
a little souvenir Russian/matryoshka doll. This was one of those "completely blind to it" things: it was a souvenir gift from someone else that had got mentally bundled in with the matryoshka set we selected for ourselves while in Russia a few years ago. I'd stopped seeing it as a separate thing that I didn't like. Gone!
I took this picture before John selected his Sunday item but he's mostly getting rid of books too: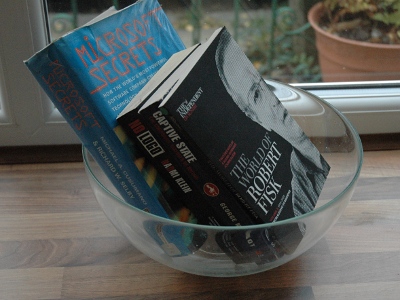 The glass (salad?) bowl is just about the most inappropriate thing clumsy people like us should own. We were too scared to use it so just filled up half a cupboard and was never used…
Declutter your greenhouse, garden or shed mini-challenge
I set the first mini-challenge on Tuesday – get rid of five items growing-related items, however that applies to you.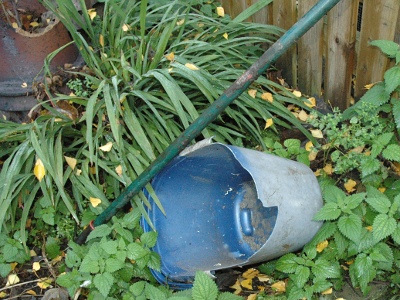 Over the weekend, I got rid of a broken plastic bucket and a got-another-just-like-it rake from the space near the chicken coop. And from further up the patio, I got rid of a rusty old waste bin which had been sat near the outside tap for a year? two years? and its contents (an ancient dustpan brush, a slightly snapped cat tray scoop – all counted as one thing), and also a plastic plug tray which we must have stood on half a dozen times. I also sorted through my seed stash and got rid of some things I don't think I'll try growing again: cauliflower, watercress and some Real Seeds pepper seeds (we just don't have the sun for them – but my dad does, so I'll send them to him).
All in, I liked that I actually got rid of some trip-over-it clutter from the garden and vow to try harder to get rid of stuff like that from the house this week too.
Team Declutter: what have you been getting rid of?