Is it weird to keep a well-stocked larder?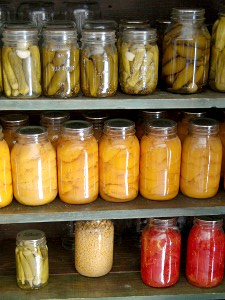 Karen (hi Karen!) commented on my last post (Winter IS coming) saying her main winter prep concern now is stocking up their larder. She lives somewhere rural and they regularly get snowed in so having a well-stocked food store is critical.
I often feel a little silly keeping a packed larder here though. While estate agents might claim the woodland and numerous fields of cows close by make our area "semi-rural", it really isn't. There are two decent-size supermarkets within less than five minutes walking distance and while our road is rarely cleared of snow, the nearby main road is kept gritted so we can still get about (even on public transport) quite easily. And yet… Last time I was unpacking a big shop, I remarked to John how it soothes me to know the cupboard is full of beans, and tomatoes, and pasta, and whatnot. It's not like I'm anxious all the time when it's empty, I just feel better knowing that stuff is there.
Around this time last year I wrote a list of our store cupboard "essentials" and I think that list is still the same now, with the addition of extra tinned fish and pickled/in oil roasted peppers. Like many things on the list, those items aren't "so we don't die" essential but would allow us to maintain a relatively varied diet in a strange situation (which would help keep our immune systems perky) or means that we will use up the stores in our normal rotation. I don't know how we'd be manage if the fit really hit the shan but I think we have more than enough to last through a normal-abnormal situation, if you know what I mean, be it related to the weather, illness or a financial hiccup.
But, for me here with my supermarkets and main road & mains gas, it still does feel silly to keep a pantry full of (almost entirely) shop-bought items. It feels like I've been reading too many of my post-apocalyptic books again, or I'm paranoid, or I'm expressing some mental unrest issue through hoarding behaviour. It felt silly admitting to John that I had, no matter how small amount, felt anxious about the more-empty-than-usual cupboard and it feels even sillier admitting it here, even though I know from the post last year that many of you keep stores too. The photo is not our larder, I wish it was – I can understand "putting up" your own, that makes sense – but buying stuff from a supermarket to store it "just in case"…? I know about crop failures and "just in time" logistics so the rational part of me knows how fragile our food chain is but still, it feels robust enough to make me feel silly for keeping a store at home.
But for all of human history up to, what? 20? 30? years ago, keeping a well-stocked pantry was the norm so it also seems silly to think it seems silly. ;) It's very odd.
Does anyone else know what I mean or is this me being strange again? Have you had funny reactions when people find out you keep stores or do you feel a bit weird about admitting it? Should I start a "pantry-keepers anonymous" group? ;) Or, on the other hand, do you think it is actually silly to keep a stock of food at home when you live in an urban/supermarket-adjacent area? I'd love to hear your thoughts.