I meant to write up this recipe a few weeks ago but in all the end of year/new 2011 goals excitement, I forgot. The rich dark treacle flavour and cinnamon make them a great winter biscuit – almost warming!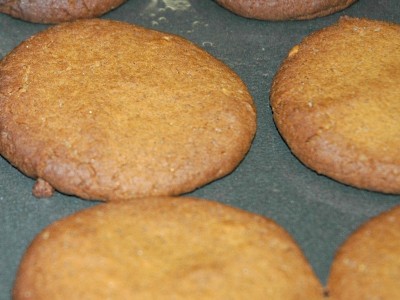 They're also a perfect fill-the-oven companion to my quick-and-easy soda bread recipe – I get my soda bread in the oven then start making these guys. By the time I've measured, mixed and shaped, it's about 20-25 mins into the soda bread baking, then the biscuits go in and everything finishes at the same time – perfect!
As there is no egg or anything like that in the mix, they're one of my favourite "cook's perks" recipes – ie, I get to "test" the dough throughout the making process and lick all the bowls & spoons at the end. :D
There is also a fourth wonderful feature of these biscuits which I say explain at the end so those with easily-offended-by-tastelessness aren't put off a great biscuit recipe! ;)



Buttery treacle spice biscuits
Makes: about 20 decent-sized biscuits
Ingredients:
200g self-raising flour
100g butter, soften so it's workable
65g soft brown sugar
1tbsp of dark treacle
1tbsp of golden syrup (or a second tbsp of treacle – if you love the dark stuff)
1 heaped tsp of ground cinnamon
A little icing sugar for dusting (optional)
Read More
I love baking bread, cakes and biscuits – the process is fun, the product is tasty and it's very often cheaper than buying them ready-made from a supermarket. But I don't have the time to bake every day at the moment – and that often results in having to buy expensive, pale imitations of nomminess, and sometimes food waste too.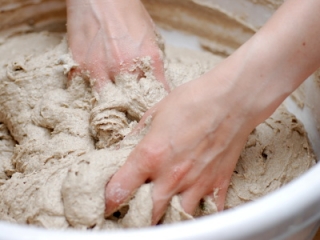 Our slow rise bread is great – it's edible as long as there is any to be eaten. Because it's not quite so fluffy as supermarket bread, it doesn't feel as instantly stale and it's fine as fresh bread for three days or so, then good for toast for a couple more days. Other baked goods though – scones, cakes, biscuits – tend to be lovely on the first two days but then quickly stale – either going soggy or hard depending on which is undesirable in the item.
So what do you do to make sure your baked good will last until you can bake again?
Airtight containers (typically old ice cream tubs) don't seem to help that much – perhaps with biscuits (cookies) I need something else in there to absorb the moisture… rice perhaps?
Freezing breads & cakes is a possibility – anyone got any preference to freezing them before or after baking (or part-baked)? I keep meaning to freeze homemade pizza dough – it can be frozen at any stage from after kneading or rising, through to full prepared pizza – does anyone have any preferences for freezing at any particular stage?
As for biscuits, I like the idea of making a roll of dough, which is then frozen and sliced & baked on demand (like for these Earl Grey tea thins) – but with all this breads, cakes and pizza dough, I suspect our freezer will quickly fill up! So what are your favourite longer-life biscuit tricks?
Any thoughts, recipes, suggestions etc would be gratefully received!
(Photo by hisks)
Read More