January – end of month review
Just a quick post reviewing my progress on my various goals/spending, and about tracking other stuff that I may or may not have mentioned.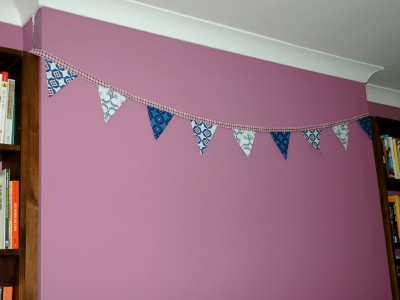 (I mentioned this on Twitter – I'd had this bunting for a while and John surprised me by putting it up in our dining room. Pretty!)
Goals in 2011 progress
I haven't really achieved any of my goals for 2011 yet – early days, early cold days. I think we've baked something every week so far though and I've also started tracking of usage of more consumables (FYI – but possibly TMI too – it takes us 6 days to use a toilet roll), so that's a start. I also built some things from wood for the garden, which will help me with my piece-of-furniture making goal.
Buy less than 12 items of clothing in 2011
I haven't bought clothes this month so my tally for the year is still at zero. (More info about the challenge…)
I did look at stuff in the sales online at the start of the year but wasn't persuaded by anything. And last week, I went into a few shops that sell clothes amongst other things (mostly charity shops) – but I put my blinkers on and went straight for the other stuff – homeware things – instead of looking at clothes. It's quite a poor area so the vast majority of the clothes are cheap makes – I don't mind buying some of my items from charity shops but I want to avoid poor quality clothes wherever they are sold.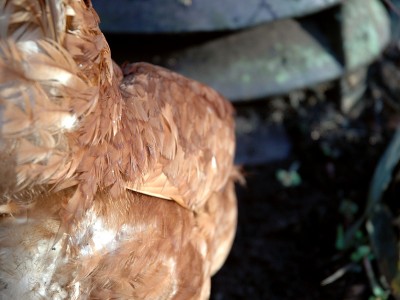 Growing stuff & the chickens
Since it's still chilly winter, not much is happening on the growing front. I sowed some winter gem lettuce near the start of the month and they're still tiny, but getting bigger by the day. We also had some fruit trees delivered – six apples and two pears – and John's planted those out now. I also bought two blackcurrant bushes – I feel like we're making good progress in the perennial fruit situation now.
The chickens have enjoyed the factionally longer days and the mostly warmer weather – and the two black rocks both started laying mid-month. Lime is still moulting and Buff is still refusing to give up the goods, but we've had a solid five eggs a day from the other five nearly every day for the last fortnight. We've had 109 eggs in total for January – not bad going since it was just one or two a day at the start of the month! (Also, in late breaking news, some of the chickens are currently grounded – I let them out to play again yesterday and someone, Ginger I think, led the parade into the wooded bit of our garden – it took me about half an hour to catch them all again!)
Cooking
Some weeks I've been better at cooking than others – one week because I was out nearly every evening and the other because I was tired. Some highlights though: remembering how much we enjoy sausage & lentil casserole, starting our sticky rib sauce adventures and lemon curd, oh my, lemon curd.
Making
I started crocheting a big stripey blanket – it's slow going but it's about 5ft long and 18ins wide now so it's coming along.
My proCRAFTination project has taken a back bench to the mindlessness of crocheting stripes – I've finished sewing my dot-to-dot's from Leethal. I also started but abandoned embroidering a purse (I had an idea that was very embroidery heavy and I decided it would have taken too long for the outcome to be worth it), and improvised a really bad crocheted dog bookmark — bit annoyed at both those projects because they fed into the meh-machine of me starting but not finishing projects, and with a bit of planning that could have been avoided. Onward and upward.
Outside, I made the wooden planters for the garden too – as much as I like crafts I can do on the sofa, I do very much like playing about with wood too. Got some more ideas of things to make over the next few weeks, weather permitting.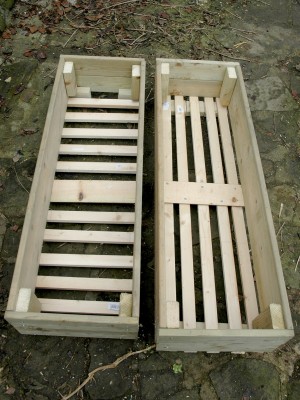 Spending
I've done better than I thought I would at keeping a track of all my spending. I've decided not to include food for consumption within the home for now as that's not a problem area for us – but I am including takeout/delivery food or things we've bought while we were out & about — stuff that is a luxury and bought more out of laziness/frivolous desire than anything else.
Aside from food (including animal food) and bills (including mortgages & utilities), I've spent £199.96 – quite a bit! £28.24 (14%) was on frivolous food, £51.89 (26%) on household items (including toiletries as well as some photo frames and a lovely will-last-forever egg rack) & pet stuff, and £45.20 (23%) on transport (mostly bus fares but including two unavoidable taxi fares – more than normal of both because I was involved with a theatre production in the evenings for a fortnight). I also bought one book for pleasure, one book for work, and spent £32.13 (16% of the total) on craft supplies, mostly more yarn for the blanket. I suspect I spent a little more than I would do on some things as an aftermath of my no-spend period last month – hopefully February will be more frugal.
How has your January been? A strong start to the new year or are you in a holding pattern, waiting for spring?
And those people participating in 12 in 11 clothes challenge – how's it going? I'm going to do a full recap at the end of Feb – but do let us know how you're getting on!