Bargain dinners – lamb curry and lamb, chorizo & chickpea casserole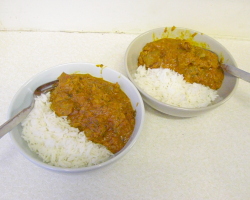 I intended to write more about wild garlic pods today but we cooked up such a bargainacious storm last night I can't resist telling you about it.
I spotted a perfectly-fine looking 2kg shoulder of lamb in the reduced-to-clear section of the supermarket a few weeks ago. It was less than an hour before closing and the shop was pretty empty to they'd marked it down from £12 to £1.35 (it had originally been on offer at £12 too!). A 2kg joint for £1.35! The reduced meat gods were looking out for us that day – one of the staff had wrapped a couple of packs together with the sticker price of 75p – the top pack was ox tail, a less observant person might have thought the bottom pack was too. It wasn't, it was £8-worth of sirloin steak! We ate the steak the following evening but the lamb went straight into the freezer until a time we fancied a nice roast.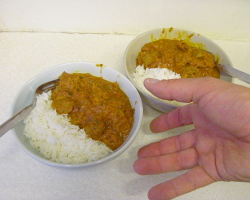 I got it out to defrost yesterday and fully intended to slow roast it yesterday afternoon but work was a bit frantic and it just didn't happen. By dinner time, we needed something quicker than a 5-hours-in-the-oven roast so I decided to hack it up instead and let John whip up a curry with it instead. There was so much meat though that I had enough to make a casserole with it too – a slow cooked one so I could use up the tougher meat.
John's made a few excellent Achars recently but lacking yoghurt today, made a jalfrezi instead. Then forgot to add the egg, the numpty. We'll add it when we have the leftovers though and add some more spices to freshen it up again.


I made a variation on this lamb, chickpea & chorizo casserole, with potatoes instead of carrots because that's what we had in. I cooked it with the shoulder bones in, then pulled the last of the meat off the bones when it was super tender. We're having some of that for tea tonight – probably with quick-to-knock-up honey and sesame flatbreads. I hope it's yum!
There were about 4 generous portions of each – working out, including rice/bread to serve, at about 60p a portion. But more importantly for us this week, we've got some quick tasty homemade ready meal dinners in the bank – perfect for nights like tonight when we're busy doing exciting things…