Charity shop bargains from Shipley
I did a little impromptu charity shop-shopping in Shipley on Saturday.
For the size of the town centre, Shipley has a good number of charity shops but I didn't make a mammoth haul because like in most poor-er areas, the general stock tends to be lower quality – discount shop/supermarket clothes, and trashy books I've either read, got or wouldn't touch with a second-hand bargepole. That's not to say that bargains and/or super-cheap expensive goods aren't ever spotted, it's just less likely. In my experience in Shipley, the BHF has slightly better quality items than the others, while the Age Concern Community Action shop & JOY have the most random stuff. (JOY, the only shop away from the main market square, on the other side of the market itself, is stuffed full of stuff and definitely one for rummagers.)
Anyway, on Saturday I bought: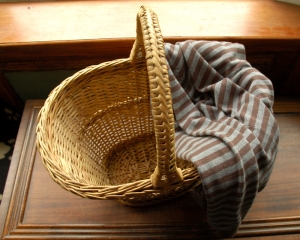 a 100% cotton stripey cardigan. It's a man's one but fits me. It cost £3.45 (it should have been £3.50 but the woman was really low on change – I could offer a £10 note or £3.45 in change, using every last penny in my purse – she accepted the latter.)
a basket for £3. I've wanted a few baskets for a while – for foraging, for craft stuff, for kindling. This one, which only arrived in the shop while I was in there, is more of a traditional shopper type — I used it for my shopping while I was in Shipley and it was great — and will be perfect for kindling as it is, or I can line it with pretty fabric if I want to use it for yarn. Or I could keep it as a shopping basket. Decisions, decisions.
A giant measuring jug for 50p (not pictured), which was a great spot as I was on my way to buy a normal sized one for using as a chicken food scoop. (Up until now, we've just been using an old plastic tub but I thought we'd get a measuring jug to keep a better eye on how much food we're putting in every day.) This bigger one means less trips between the feeder and the foodstore – great for lazy people like us.
Not a huge haul but the basket was a bargain – cheaper than the ones I'd seen on eBay and without having to pay for p&p, the cardigan will be useful for layering in the autumn and the jug is already in use.