Impromptu long weekend
We had a bit of an impromptu long weekend here – and it's been a good one.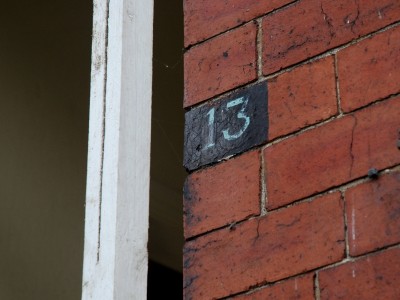 On Friday, we FINALLY completed on the sale of our old house in Leeds. I'll write more about it in detail at some point soon but basically **does the happy dance**. We've been trying to sell it since we moved here in September 2009, although for one reason or another it only went on the market a year ago – a year ago to the day pretty much. We'd had a few offers but it took until now for one to go anywhere. Anyway, on Friday morning, we had to clear the very last things out of the house (mostly stuff we'd offered to leave but they said no) and handed over the keys, then spent all afternoon hitting "reload" on my online banking to watch the money appear in my account … just kidding ;)
Actually, what happened in the afternoon an invasion of sorts – John's uncle & aunt who live in Hong Kong visited with their two kids, and then John's sister & her two kids, and his mum arrived. The kids from Hong Kong met our chickens on their last visit to the UK last summer and apparently have frequently spoken of them since then, so they were keen to have some hen time on this visit. We spent a lot of time hand feeding the birds, and they enjoyed learning how to hold the hens too – I think the chickens quite enjoyed it as well, they happily sat in the kids' arms for ages. I was reminded about the lovely comments people left when our other nephew met the chickens – about how we're giving them childhood chickeny memories :)

After they left, we went for a house-sale celebratory curry with a couple of friends. In addition to eating a mammoth amount of food their, I bought a container of gajar halva to bring home – that's definitely on my learn-to-cook list, watch this space :)
On Saturday we went to visit some friends at their lovely new house in Harrogate, taking a lovely walk around The Stray in the sunshine, then yesterday was a day of decompressing. We went to the big car boot sale near Leeds-Bradford airport in the morning. I'd been meaning to go for a while but Sunday mornings are usually lazy time for us so it hadn't happened. If you like carboots, it's definitely worth it though – apparently there are around 200 sellers (I didn't count) and when we finally got there at nearly half-ten, it was still very. very busy.
We only really skimmed the surface – didn't do any digging – but I spotted a few things to buy: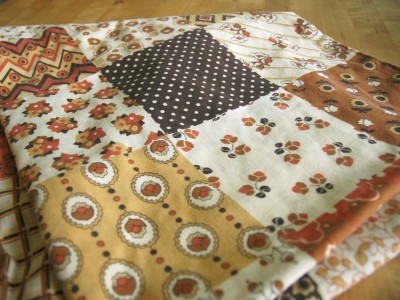 a fab vintage duvet cover for 20p. I thought it was a full size single duvet but it turns out it's more of a cot size cover — which is absolutely no problem – saved me a job in fact. It's a perfect size for another giant bean bag, which was what I was going to make with the duvet cover anyway!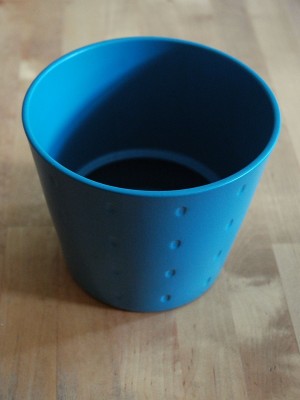 an Ikea plant pot for 50p. Not too exciting but exactly what I need for a newly repotted cactus.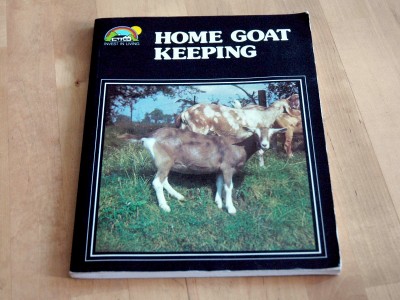 and an aspirational book about home goatkeeping for 50p. The people I bought it from said they had bought it aspirationally too, back in the day. They were selling a lot of the gardening/simple living books including Keeping Pet Chickens and a John Seymour self-sufficiency book, so I was playing "got, got, got, need" with their book box ;)
As well a general bric-a-brac, there was a lot of people selling clothes and lots of kids' stuff too — but John noted there was a LOT of stuff that had clearly been novelty presents and/or silly impulse buys in the first place and that made the whole thing a bit depressing. So much clutter, so much money wasted. Really took the shine of my wishful-thinking goat book…
Anyway after that, we pottered at home and I made a chicken dish for dinner – as I said on Twitter, as I said it was a spin on a cacciatore/puttanesca/basque thing which I joked was a "caccianescaque", or as I said to my mum, "a jazzed up tomatoey thing". It included our own courgettes – would have been nice if it was our own tomatoes too, maybe in a few weeks… I put the carcass from the chicken in to slow cook into a stock overnight and I decanted it & pulled the last meat from the bones this morning. My hands now smell like roast dinner even though I've washed them twice. Mmm dinner fingers :)
How was your weekend?