Overexcited about baby fruit & vegetables again
Buff aside, things are going well in the garden at the moment. I had a nearly full day out there yesterday – digging, potting on, planting out, sowing more successional stuff and staring into space under the pretext of "planning". I also spent a lot of time checking out how things are progressing…
Weeee! our first pinkening strawberry!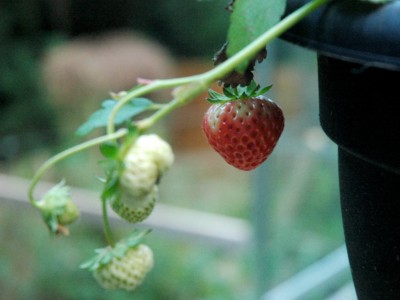 We've got quite a lot of fruit but this one is the first to go red. They're Flamenco strawberries – starting a little late but should fruit right through until the autumn — a few at a time for a longer season will be better for us this year, although I think I might add an early crop/June-July cropping one for a jam-making glut :)
I also spotted my first set of to-be-courgettes this week – they're only about 15mm by 5mm at the moment so we might need quite a few to make a ratatouille…!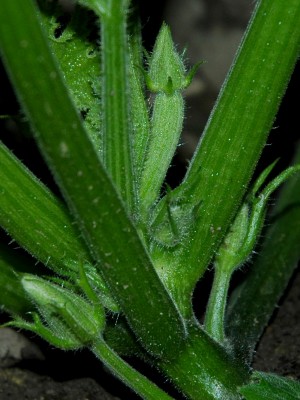 They don't need pollination so should just grow now – and knowing courgettes, by tomorrow they'll be marrows ;)
In the winter squash department, I also spotted some round-bottomed female flowers on a few of the pumpkins – I think they will need pollinating when the flowers open up. There are plenty of male flowers open but I've not seen many bees around over the last week, so I might get in there with a little paintbrush, just to be on the safe side.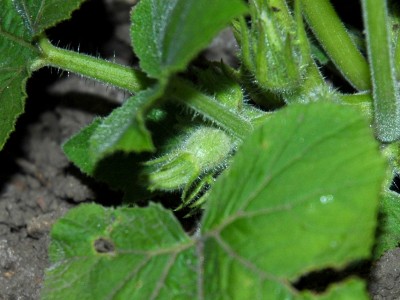 There are little tiny bumpy baby cucumbers appearing up too.
We've also got a few apples starting – it's the trees' first year here so we shouldn't really let them grow apples (they should concentrate on growing up and out first) but we're going to let each tree grow a couple, just to see what they're like.
I think I'm especially excited about all these things because, aside from the courgettes, they're all first for our garden – never grown strawberries, pumpkins or cucumbers before, and there is always the "what if they don't grow?" worry.
How's your fruiting going? Any suggestions for an early/summer glut strawberry type?