Charity shop finds: a wool blanket & a cute jug
I had to go shopping from drama supplies on Monday and while I was there (Shipley), looking for spookily featureless masks, I had a couple of pleasing charity shop finds too.
Firstly, a big wool blanket.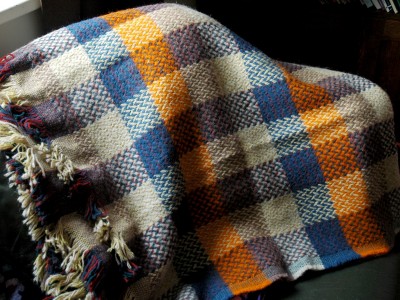 The label says it's 100% wool and "British made", and it's in very good condition – no felting and just a few snags that a couple of minutes with a crochet hook will set right.
I've actually be looking for a nice wool blanket on eBay for a while and based on previous sale prices, had given myself a pretty tight budget of about £12 inc p&p – but this one was just £3.99. Win.
It's a little scratchy (it is wool after all) so it's not going to be my favourite buried-up-to-my-face-in-it snuggly but it'll be more than fine on top of the duvet (it's at least double bed size) or as a throwover for cold legs/feet on the sofa.
The other thing I got was a bit less practical – well, I'll probably use it in a less practical way. A cute jug: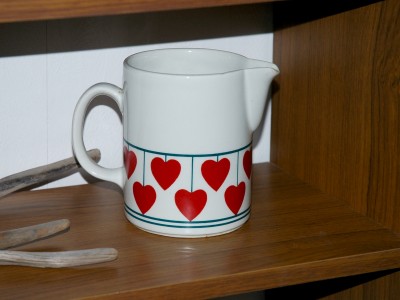 It was spattered with tea or coffee stains when I found it and there is a tiny (1mm round) chip near the spout but I thought it was cute enough to still be worth the 60p price tag. It's about 6inches tall so I'll use it as a vase on the rare occasions we have flowers in the house and in the meantime it'll probably be used as a pencil pot.
Have you had any good charity shop finds recently?